HOT TOPIC: WHERE TO BELONG? – A DIALOGUE ON REFUGEES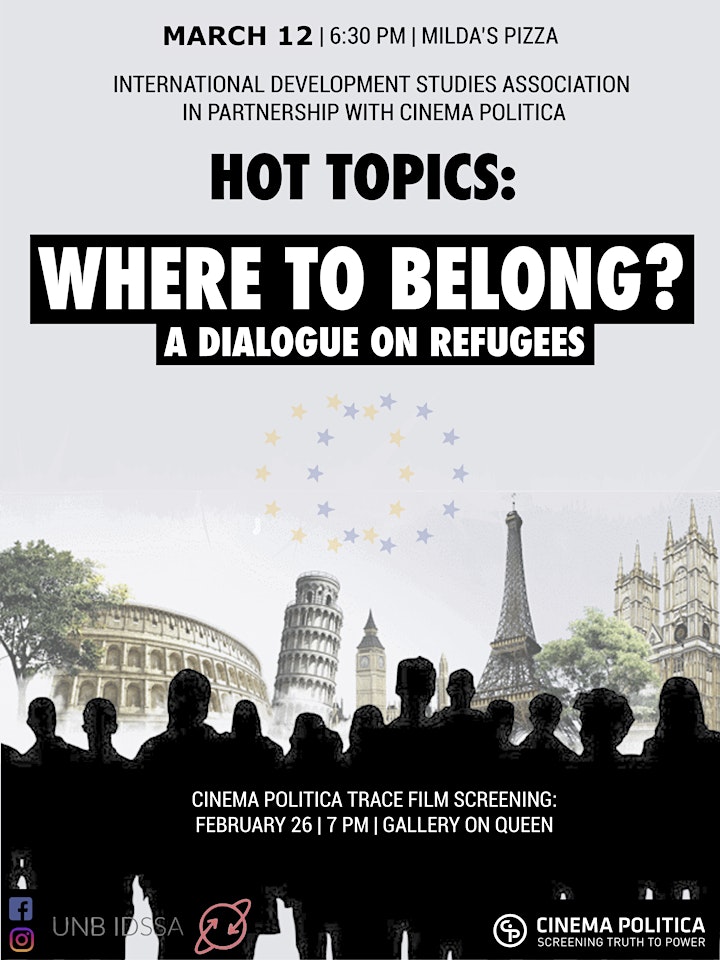 HOT TOPIC: WHERE TO BELONG? – A DIALOGUE ON REFUGEES
On Thursday March 12th at 6:30pm, UNB International Development Studies Student Association (UNB IDSSA) in partnership with Cinema Politica Fredericton will be hosting a Hot Topic dialogue on refugees titled: Where to Belong? This event is open to the public. Please arrive at 6:30 pm so we can delve right into this complex issue.
Our hope is to provide an engaging forum to discuss the root causes of the many refugees crises the world faces today and solutions which could be undertaken to solve them.
We want to ensure a safe atmosphere for all participants to share their perspectives. Inappropriate behaviour will not be tolerated. Respect goes a long way in having a productive conversation.
The event space is graciously hosted at no cost by Milda's Pizza. We strongly encourage all participants to enjoy a delicious pizza and drinks while partaking in the evening's conversations.
This event is held in conjunction with Cinema Politica's Fredericton's Trace film screening that took place on Feb 26 at the Gallery on Queen. If you wish to find more info on the screening please use this link:
www.facebook.com/events/1448362382005936
Furthermore, you can visit www.tracedocumentary.com to learn more about the documentary.
If you wish to find out more about Cinema Politica Fredericton you can also visit:
https://www.cinemapolitica.org/fredericton
Please make sure to order your free ticket as space is limited and we will only accept those who have tickets in the event that there is more attendees than we can accommodate.
Looking forward to seeing you there!